Home ›
Make Money ›
How to Build a Website Network to Make Money Online
This is why so many people start chasing the dream of making money online from home on their computer, but so few of them make anything worthwhile and actually see some money flowing into their bank account.

Let's look at this. The main reason for their failure is they discover it takes a fair amount of work and self-education on how to build websites and promote them. Not too many people are happy putting the work in, so most of them give up before they really get started.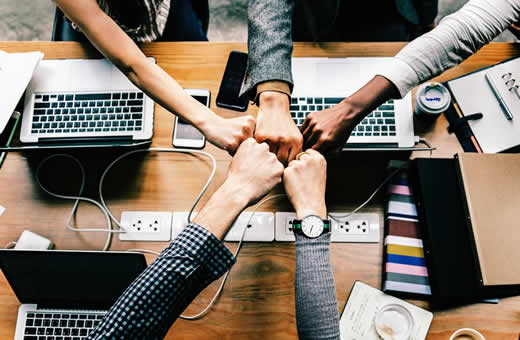 Those folks that stay the distance do so because they have a good work ethic. They have self discipline and determination to learn what they need to learn and then apply it to achieve the happy result of witnessing that first affiliate paycheck coming their way.

If you believe you have what it takes and you can do it, I'll show you my own method I use to get started generating a consistent and generous income solely from the Internet.

It's not very different from other long-term Internet Marketers who know what they're doing and regularly share their insights and knowledge through their personal blogs.

Here's what you will need to get off the ground:
Network #1:
I'll call it the first network because, well, it will be your first! When you get this one built out and earning money, you can start on the next network. Then the next and the next etc…

This is to keep increasing your income and creating a wider net to catch more buyers. Start with:
A Money Site
This will be your main income generating website. You'll need to choose the domain carefully and then build a good quality site on it.

The most important work you need to do before even buying a domain is to choose the niche you want to work in. That's the main subject of the money site and it should be one you can feel comfortable writing factual articles and making videos about that are factually correct, interesting and useful to a visitor who reads or watches them.

Learn how to write good sales copy, because you're going to add product reviews to this site that link to the products you want to sell. In most cases, they will be other people's products and you'll be promoting them to earn sales commissions.

The site has to appear professional, attractive and trustworthy. Your aim is to attract visitors to the site and then to keep them there long enough to find your product reviews and to click through to the merchant via your affiliate link.

With all the will in the world, the best written articles and the greatest looking site on the planet, all that is of zero value if you can't get people to see it.

Now you need to promote the site. You have two choices here:
You pay for advertising to get visitors to the site
You leverage the search engines, Google mainly, to rank your site and its pages high (read page 1) in its search index so visitors can find you that way
I'm going to show you how to rank in the search engines using a tried and trusted method called SEO, or Search Engine Optimization.

There are two sides to SEO:
On-page where you optimize the website itself
Off-site where you obtain external hyperlinks from other websites
On-site can be done easily enough once you learn how. I'll cover that in a separate video.

Here's what you will need for Off-Site SEO:
A first-line link network of sites you control
Some call this a PBN or Private Blog Network. I don't like making lots of blogs, preferring static html sites for their lightweight build, fast load times, portability and resistance to hackers.

So the name PBN isn't really correct in my case, but you can make your network any way you want. To make it easy to remember, I'll call it a PBN.

You can build your PBN to suit the niche you're targeting and the kind of competition you are up against. The formula is pretty straightforward:

Strong competition: Big strong PBN
Low competition: Smaller PBN

To begin with, it makes a lot of good sense to go after a fairly low competition niche. Generally, when the competition is low, the rewards are similarly low. But you can still start making a small but steady income from low competition niches if you can dominate them in the search engine results pages (SERPS).

The bigger (more domains) and stronger (higher site authority) your PBN, the easier it is to dominate a niche as long as your PBN sites appear to be active, regularly updated with fresh content and regularly shared among social media sites.

This makes sense when you think about it. From Google's perspective, it wants to rank sites that are being visited, are popular and therefore a good choice to recommend to its visitors (in search).

That's why you will probably hear some PBN owners bemoaning the lack of power their PBNs have when they simply set them up and forget them.

What do you also need?
A second-line network of sites you control
This is a lower quality collection of self-hosted sites, web 2.0 properties like blogger, wordpress.org, weebly etc that you use to link to your first-line PBN.

Its purpose is to increase the perceived authority of the PBN so that links from those sites give more authority to your money site.

In addition to creating additional online properties to place links that are under your control, you can also do outreach to other website and blog owners to see if they will accept an article written by you that will contain a link to your main site. That's called "guest posting" and it is a good way of spreading the inbound links around.

If you can get published on a high traffic blog, great! That's because you can funnel some of that site's visitor traffic to yours through your in-article link.

The only downside to guest posting is you do not control the links and the site owner may remove your link from your article after a time if they want to. Many don't but some do!
Fast Track PBN Authority Build
There are two ways to build authority to your own first-line link network, or PBN:
Build more online properties using self-hosted domains, free web 2.0 properties and creating social profiles yourself.
Guest post on other blogs to build links to your PBN sites.
Either of those ways take time, effort and work. A lot of it!

You can reduce the workload on yourself by paying someone else to do the work for you. Some people hire a Virtual Assistant, but for many starting out in this business, that's an expense they can't afford.

A lower cost way is to make use of paid services like Fiverr or Konker. I personally prefer Alex Becker's SEO marketplace called Konker because the results are usually of better quality and the turnaround time is fast. Prices vary from offer to offer, from under $20 upwards.

This is how it works:

You sign-up to Konker for free. You'll need to provide your name and email address to create the account. You can use your Paypal account to pay for the services.

After that, simply browse through the advertised service sellers and choose the one that fits your needs. The price advertised is for the basic service but sellers often offer extras that you can buy to increase the results.

When you're new to Konker, it might look a bit overwhelming because there are so many people offering SEO services like PBN links, guest post placement, business citations and mass web 2.0 site creation.

I have a few favorites that I use myself that I'll share with you.
PBN Posts:
There are plenty of offers of PBN posts, some very cheap like this one that offers to place 10 PBN links for just $24 for the base package.

This will give your PBNs some starter link power and diversity as long as you set it up the right way (ie keep link anchors to mostly bare URLs or brand names).

That's fine for low quality links but if you want more power from paid link placement, you should expect to pay more.

Here is a better one that I have used to place 10 posts each with a link to your site on high metric sites for $200.
The sites used have good authority and that means the links are picked up quickly by Google, increasing the authority of your PBNs faster.

That's just $20 per permanent high quality link, which is a great price.

When getting paid PBN links like these, I would suggest providing the seller with a spread of anchors for those links including the bare URL, the brand name and one or two keyword variations.

The trick to staying under Google's quality radar (and algorithm penalty flag) is to keep keyword anchors to a minimum and put more emphasis on branding your sites while varying the anchors you use.

The old days of blasting a site with tons of exact keyword anchors you want to rank for are gone and that practice can now get your site a ranking penalty. So be cautious!

Originally posted: July 3, 2019

[BACK TO TOP]